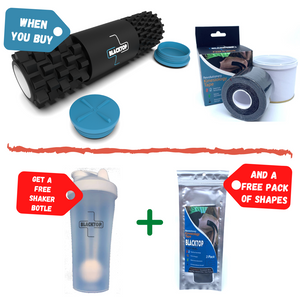 Bundle Value Of: $51.97 -- You Pay: $37.98 -- Limited Quantities Available
A bundle for every athlete looking to stay one step ahead of the competition by treating their body to the proper care during workouts and the proper recovery it needs after every workout.
Buy our 5-in-1 Foam Roller and an uncut roll of our kinesiology tape at a discounted bundle price and you will receive a free pack of any shape of kinesiology tape AND a free shaker bottle with your purchase.
---
One foam roller to rule them all.
We have designed a foam roller compact in size with seamless twist-off caps on both ends for storage and for use with exercise bands.
Foam rollers are the closest thing to a massage therapist in your own home. With our three unique treads, you are the master of your routine.
Get a deeper dig with the big knobs, a medium massage with the small knobs, or a softer touch with the smooth surface. 
*Disclaimer: Due to its weight, our foam roller does not count toward free shipping. Your order will calculate the free shipping on our other products while including shipping costs for our roller.
---
Though our pre-cut shapes will fill the needs of the majority of athletes, often kinesiology taping techniques are complex, and you may need a little more help with customization. Blacktop Tape™ provides the flexibility you need to completely customize your taping, or to have your healthcare professional tape you in the way they feel is needed. 
Product Specs:
1 roll per package
Roughly 10% more adhesive strength than the leading competition brand
Suggested Uses:
Use for 1-3 days. The chance of slight skin irritation increases with extended use beyond recommended and the ability to feel the ingredients diminishes overtime.