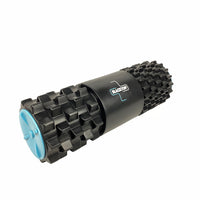 The Last Foam Roller You'll Ever Need
We have designed a foam roller compact in size with seamless twist-off caps on both ends for storage and for use with exercise bands.
Foam rollers are the closest thing to a massage therapist in your own home. With our three unique treads, you are the master of your routine.
Get a deeper dig with the big knobs, a medium massage with the small knobs, or a softer touch with the smooth surface. 
Get a free pack of any shape of our tape with your purchase of the foam roller.
Learn More
Tape You'll Actually Feel Work
We have created an evolution in the Kinesiology Taping Industry, with improved adhesive, simple application, and added all-natural ingredients to help you perform better, recover better and Feel it Work ®.
Learn More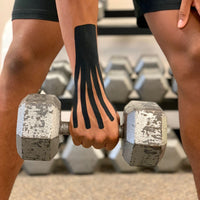 Testimonials
I recently ran a half marathon even though I had some tendinitis in my achilles. After the half marathon, both of my achilles tendons really hurt. The blacktop tape helped bring rapid relief. Along with icing, rest, and an anti-inflammatory, I used the tape to help my tendons get relief and heal. Thank you for a great product!

Mike G. - Utah
I had ordered to have it on hand for when we needed it. But holy cow do I love it. It's a great tape and the ease of use plus the added oils make it far superior than the others we've used. I told other parents about how much it helped my oldest daughter and I have quite a few parents who'd like to order :-). I told them I'd reach out to you and we'd get a bulk order in. Thank you so much for this product. It's helped alleviate pain and helped with healing far better than anything else we've tried!!!

Meredith B. - Competitive Softball Mom - Arizona
We used Blacktop+ Kinesiology tape recently at  Dances with Dirt, a 100 kilometer (62 mile) trail running relay race.  The analgesic benefits, along with the muscle relieving support, of their tape were greatly appreciated throughout the entire 62 mile course.  Blacktop is truly the next level in Kinesiology tape.

Tom C. - Michigan
This tape feels so great! I gave a bunch away to teammates to try and they all started asking how to buy it. I could even feel it the second day during practice.

Caesar - High School Football Player - Texas
Blacktop Plus Partners and Athletes